Money, money, money - Pots of it!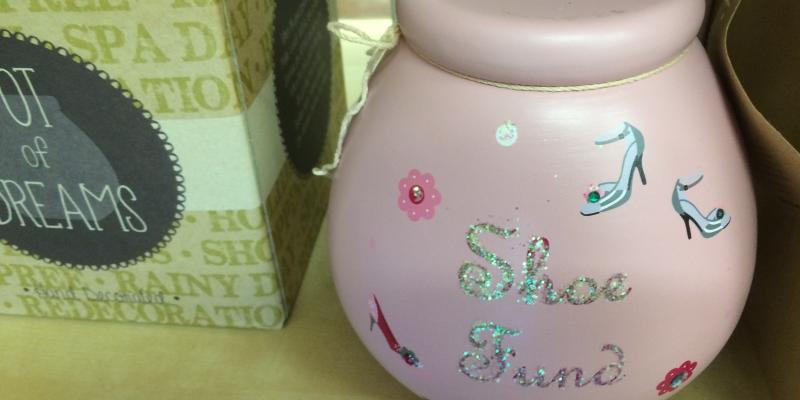 PUBLISHED: Jul 24, 2015
Some of our customers will just be returning from holiday and already planning their next one, some may be saving for a wedding, some might hanker after expensive shoes, our gentlemen customers perhaps dream of buying their dream car. Whatever your dreams are for, it can be very handy to have somewhere to put your hard-earned pennies to save up for it. So, we have just the thing for you - the money pots are back.
Similar to a piggy bank but with one major difference - you fill them up completely and then, when you're ready to 'harvest' your savings, you smash them! So, no raiding the savings for that one little extra that won't make any difference - it's all or nothing with these lovely pots. Take a look at the variety below and take a trip into the garden centre to see the whole range. Don't leave it too long - they're very popular!
Despicable Me Pot of Dreams Money Pot
Familiar with the Despicable Me films, who wouldn't be happy to have a Minion looking after their savings?
Dream Car Money Pot
Ladies, Gentlemen, who is saving for a nice car? Perhaps you're saving for your first car - to you it's likely to be as important as saving for a Porsche, Jaguar, or a Lamborghini. This money pot is the one for you - remove temptation and put your pennies in here knowing that you'll have to smash it to get them back out again.
Best Friend Money Pot
Do you have a special friend you'd really like to treat? Then this money pot is for you.
Beige & White Pot of Dreams Money Pot
Here's a money pot to help you save to realise all your dreams, however big or small.
Frozen Pot of Dreams Money Pot
For fans of Frozen, or just sisters who'd like to treat each other, this money pot will help you save a tidy sum. If you save up together, you can enjoy the rewards together too! Maybe a Spa Day, a Weekend Away, a Shopping Trip - whatever takes your fancy.
Pretty White, Silver & Pink Pot of Dreams Money Pot
Shoe Fund Money Pot
A savings pot for those mad about shoes! Perhaps you like expensive shoes, or maybe you just like a good shoe shopping trip where you can indulge your passion and come home with several pairs. Either way, the Shoe Fund money pot will have you on your way in no time.
Little Princess Pennies Money Pot
Teaching children to save is something many parents aim for. Here's a way you can save together for a longer period without the temptation of being able to take some back out before you've both reached your goal.
Shopping Fund Money Pot
Like the Shoe Fund money pot, here's a little something to help you get together funds for a real 'all-out' shopping experience.
Wedding Fund Money Pot
Saving for the Big Day is top of many couples' lists and this money pot will help you on your way.
Special Occasions Money Pots in the Form of Bottles!
Whether you're saving for a son or daughter's 21st, for some Fine Wine, or for your Big Day, these lovely money pots in the shape of bottles are perfect.
Money Pots Display in Store
Come in and see the whole range of money pots at Parkhill. There's a wide range so you're bound to find one to suit your need. They make fantastic gifts for people - and you may even manage to help someone realise their dream.