Forcing Bulbs for Christmas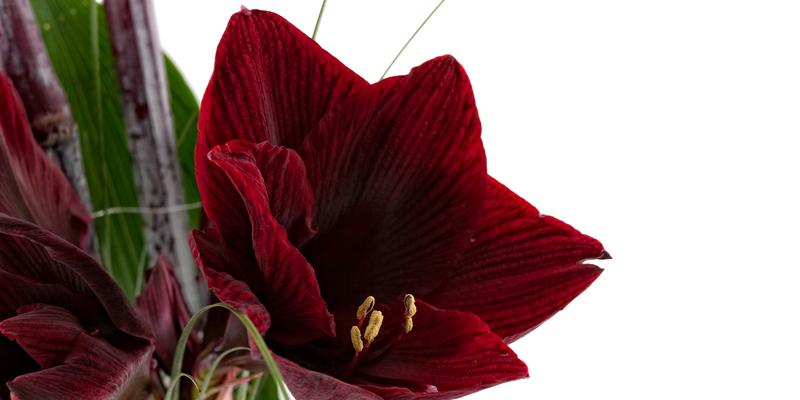 PUBLISHED: Sep 25, 2015
Forcing bulbs for Christmas
Forcing bulbs for Christmas flowering is very similar to forcing bulbs at any other time. There's not a moment to lose, however, if you want to see the flowers in time! Hyacinths, Amaryllis, and 'Paper White' Daffodils are all suitable and we have them in stock. For other suggestions, ask the garden centre staff and they will be delighted to help you. As mentioned above, timing is important and Hyacinth 'Pink Pearl', for example would need to be planted today, 24th September, in order to be flowering at the right time. This is because it needs 10 weeks of cool conditions followed by 22 days indoors. However, if you wanted to grow the cultivar 'Anna Marie', you would only need 8 weeks of cool temperatures and 18 days inside to bloom in time and this could be planted on the 12th October. As with all living things, though, they are vulnerable to changing conditions and low temperatures will delay their development so you may need to experiment to get the exact plan for each cultivar. However, Parkhill staff can provide advice so please ask. Daffodils like Narcissus 'Paper White' are planted in September and, although their natural flowering period is January or February, good quality bulbs will flower in 6 to 10 weeks from planting in the right conditions. Amaryllis can be planted in October for Christmas flowering, taking about ten weeks to reach flowering stage.
Points to Note & Planting
Hyacinths must be labelled 'prepared' in order to have them flowering at Christmas
Hyacinths can cause skin irritation so you might want to wear gloves when you're handling the bulbs
Bulb fibre is the easiest material to plant in - and more suitable if the container you're using has no drainage holes - but other composts can also be used - please ask in the garden centre for further guidance
Wet the fibre or compost first and cover the bottom of the container with a layer of it
Place the bulbs on this layer of fibre or compost - it's ok to plant them close together but they shouldn't touch each other or the container itself
Fill in with fibre or compost ensuring that you leave a gap of about 1cm (or half an inch) between the surface of the planting material and the rim of the pot to help with watering)
When you're finished, you should only just be able to see the tops of the bulbs on the surface
If you're buying Narcissus 'Paper White' bulbs, look for those described as suitable for growing indoors as pot plants
How to Force them to Flower at Christmas
Initial Stage
Bulbs need a dark, cool period (9°C or 48°F is an ideal temperature). This is so that they can develop a good root system to support healthy growth. If you have a cellar, shed or a garage, you can follow the first method below. If you don't have either of those, you might want to try the second method and start them off outdoors.
In a Cellar, Shed or a Garage
Using a black polythene bag, bag up the potted bulbs and stand them in the cellar or a dark corner of your shed or garage.
Check them often and water if the planting material seems to be drying out at all
If the pot or container has no drainage holes, tip them on their sides and leave them that way for a little while after watering so that excess water can drain away
Starting them Off Outdoors
Against a North-facing wall or fence, or any cool, sunless situation outdoors will work if you're starting your bulbs off outdoors
Cover them with 15cm (or 6") of bark or compost
Reduce the risk of worms getting into the pot by sitting it on a firm base like an old paving slab or a piece of slate
Narcissus 'Paper White'
These Daffodils can be forced using this procedure:
Noting that you need bulbs sold as suitable for growing as indoor pot plants, plant several bulbs in each pot, ending with the tips just showing above the surface in any good multi-purpose compost or bulb fibre
Water the pot well and leave the Daffodils on a warm, sunny windowsill
Watch the plants to see if they need support as they can get a bit tall and thin
Once they've flowered, you can leave them in a frost-free place to naturally die back down. 'Paper White' is not hardy in most parts of the UK so you're best to store them for replanting in containers later in the year rather than planting them outdoors.
Stage Two - Bringing the Bulbs into Flower
Before you can bring them in to move on to this stage, they must have developed to the right degree - look out for signs that the roots have developed and shoots about 4-5cm long (one and a half to two inches). If you're in any doubt, we'll be happy to help if you'd like to ask for further advice:
Bring the container into a cool room away from bright light and wait for the leaves to green up
Once the leaves are nice and green, move them close to a window in a warmer environment
Avoid draughts, sources of artificial heat - don't put them on a shelf above a radiator
They prefer a humid environment so stand the pot on a gravel filled shallow tray and keep the tray moist. Don't allow the water to reach the base of the pot, just enough water to keep the tray moist.
You may need to move the pot to a cooler location and cover again to keep them in the dark for a day or two if the leaves are developing faster than the flower buds, but be careful to avoid the leaves turning pale.
Check whether the pot needs watering on a regular basis.
Hyacinths can be allowed to die back naturally and then planted in the garden after flowering - ask for instructions in the garden centre if you're unsure of their needs. Amaryllis will grow actively for a few months after first flowering and will then need to be rested before being brought back into flower again.
Difficulties Associated with Forcing Bulbs for Christmas
If you've tried this before but had difficulties, these are the main things that can go wrong, so why not have another go and try to avoid these pitfalls?
Taking the bulbs out too soon from cool, dark conditions
Bulb fibre or compost is either too dry or too wet
The dark conditions you keep the bulbs in at the beginning not being cool enough - try a thermometer in the area you plan to store them in to see if it's going to be suitable. You'll find one in the garden centre.