Christmas is coming - fresh holly wreaths have arrived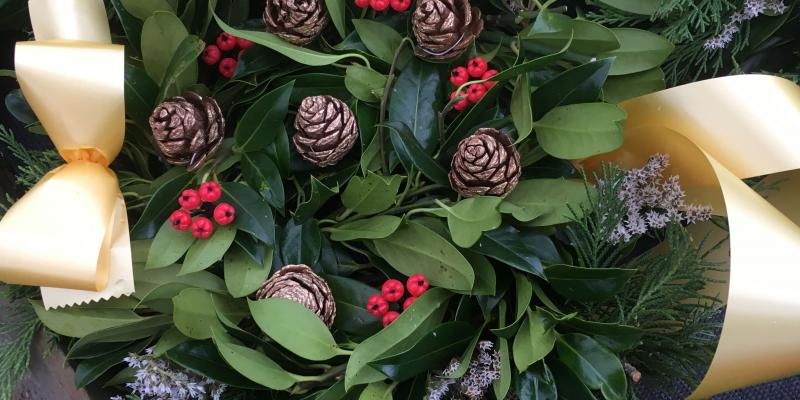 PUBLISHED: Nov 21, 2015
There's no escaping it, Christmas is coming and there's nothing like a fresh holly wreath for making things look truly festive
Beautiful fresh holly wreath with white poinsettia, red berries, white / yellow sprigs, and white ribbon
Red roses, berries, white sprigs and red ribbon decorate this fresh holly wreath
Pure white lilies, berries, white sprigs, and red ribbon add interest to this fresh holly wreath
and the same arrangement also comes with tartan ribbon
If gold is in your Christmas theme this year, you'll love this fresh holly wreath with gold poinsettias, berries and gorgeous gold ribbon
The displays of all the fresh holly wreaths together make quite a splash of colour outside at the garden centre
There's quite a range of options
The fresh holly wreath at the bottom of this picture features exquisite red roses, berries, white sprigs, and lovely red ribbon
The purple ribbon in this wreath contrasts boldly with the white and yellow flowers
Pure white lilies, white sprigs, and berries appear in this wreath but this time with tartan ribbon
Frosted cones, red berries and simple white sprigs with a red ribbon lend a more traditional appearance to this wreath
and here it is with tartan ribbon
or gold ribbon and lilac sprigs
Perhaps your colour theme for this Christmas will feature silver? This last fresh holly wreath should fit in perfectly with the silver frosted cones and silver ribbon.
Of course the best way to fully appreciate them is to see them for yourself. Pop into the garden centre today and pick up a fresh holly wreath for your home.
There is a huge range and prices to please. Our Christmas Menu will be arriving soon.