Acers, Ceanothus, Pretty Periwinkles have arrived!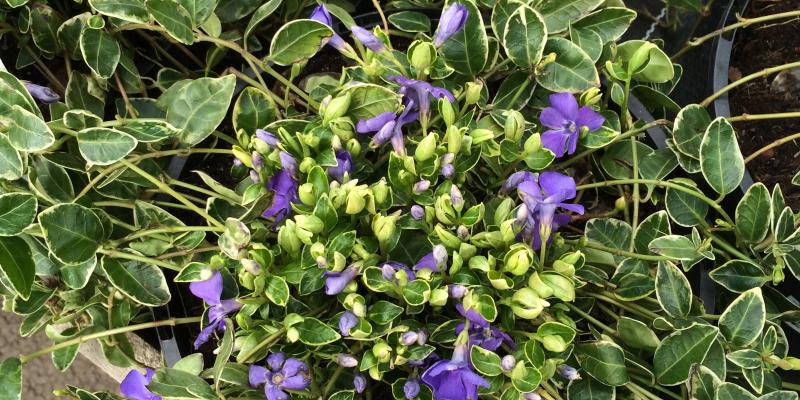 PUBLISHED: Mar 25, 2015
Photos of our great new stock to feast your eyes on!
Acer
The common name for 'Acer' is 'Maple' and they come in many varieties forming shrubs and small trees. With beautiful foliage and such variety, they are a fantastic addition to any garden.
There's not a lot to see at the moment on these examples but they will soon show their full potential. As they're hardy and like lots of rain, they're well suited to our climate here in N E Scotland.
Acer Tsukushigata
This variety is a small upright tree with blue/green bark. In Spring it has deep red-black foliage darkening to dark-chocolate during Summer and changing to scarlet before dropping in the Autumn. It's a rarer form of Japanese Maple and we are proud to offer it our customers.
Azaleas and Rhododendrons
The new Azalea and Rhododendron stock looks just fantastic - so green and healthy. As you can see from the photo above, there is lots of choice too. One of the best things about these shrubs is the variety of sizes you can find them in - so you don't have to miss out on these even if you have a really small garden.
Ceanothus Concha
Ceanothus, otherwise known as the Californian Lilac can be everygreen or deciduous shrubs or small trees. They have simple, very green leaves and small blue, pink or white flowers. Ceanothus 'Concha' is an evergreen variety with blue flowers. You can see from the plant tag photo below how amazing the profusion of blue flowers in when it's in full bloom.
Evergreen Clematis
Every garden should have at least one Clematis - and one that remains evergreen is a definite bonus. This variety is called Clematis Avalanche and, as you can see from the photo, has lovely buds on it already and interesting foliage. There are additional photos on the Facebook post so that you can see the additional information from plant tags where possible.
Convolvulus Cneorum
This pretty looking shrub is an evergreen with narrow, silvery leaves and funnel shaped white flowers tinged with pink when it's in bud. Small and spreading in habit, it grows to about 60cm tall.
Osmanthus Burkwoodii
This is a shrub that keeps on giving, evergreen with leathery, opposing leaves and small, white, yellow or orange flowers with 4 lobes of a tubular shape, which are then followed by oval blue/black fruits. A great shrub for all-year round interest.
Periwinkle Ralph Shugert
Vinca minor 'Ralph Shugert' to give it its official name, Periwinkle must be one of, if not the, most popular evergreen groundcover plant. With a dense mat of glossy green leaves some with beautiful white edging and studded in bright blue, purple or white flowers in Spring, it is also very versatile, tolerating dry shade once established. It even conveniently roots itself at various points along the stems so that it's really easy to split off and plant again in other areas the following year. This particular specimen group of plants, we're sure you'll agree, is an absolute stunner.
Photinia Scarlet Blaze
This popular, evergreen shrub has glossy green leaves and stunning red shoots. The flowers are white and have flat heads. Parkhill Garden Centre takes great pride in the quality of the plants sold and this one is a perfect example of the standard we adhere to. This variety is a new type and we're sure you'll agree that it's set for great things.
This Photinia is the better known variety Photinia x Fraseri Red Robin
Prunus Incisa
Prunus Incisa Kojou-no-mai is the name of this lovely little shrub. With quirky zig-zaggy stems and pale pink bell-like flowers adorning the stems before the leaves unfurl, this Cherry is an absolute delight to behold. It keeps on giving in the Autumn when its leaves turn to beautiful shades of red and orange.
Check out our Facebook page for a few more photos of the above stock and Like our page to be kept up-to-date with everything that's going on and all the fantastic stock that's arriving.
If you are checking out our Facebook page, please follow either the link above or click on the Facebook icon at the top of this page - there are auto-generated, unofficial Facebook pages for Parkhill Garden Centre and we would really like you to find and enjoy the content we select especially for you at our official page. If you are already enjoying this, thank you for your support and please suggest anything you would like to regularly see featured on the page.
some with beautiful white edging and studded in bright blue, purple or white